At Doggiedom take a 'holistic' approach to dog training treating each dog as an individual, with their wellbeing front and centre in our advice and coaching services. This means we consider the multiple factors that might influence your dog's behaviour including their:
life-stage and health conditions
history and behaviour characteristics (or their 'personality')
environment and lifestyle in your home; and importantly
diet and digestive health
Service Options
Private dog training services and consultation (Melbourne, Victoria, Australia only)
Private session at home or an arranged location. Includes initial consultation and assessment. Further sessions can be discussed as part of the assessment.
Suitable for those: 
with new puppies or dogs to the household who want to get their pooch off to a great start in life
who want a more customised and comprehensive program for their dog; and/or
would like a number of others in the household to participate in the consultation and plan implementation
Private small group sessions
If you have some friends who have dogs with similar training needs, we can arrange small group sessions to focus on particular areas of interest.
Suitable for those: 
who have multiple dog households or friends with dogs needing similar support
with some basic training skills and want to focus on particular areas for their dog; and/or
are happy with a less customised plan and would like a more economical option for their training
Contact Doggiedom for pricing of these options.
Small group basic training principles – through Four Paws K9 Training
Doggiedom also works in partnership with Victorian Government accredited Four Paws K9 Training, running five week basic training short courses in Parkville, Victoria. Suitable for dogs of all ages.
Suitable for those: 
who are happy to be part of small group and to learn the fundamentals of training your puppy or dog
are happy with a less customised and economic training program.
Visit the Four Paws K9 Training site for more details. 
About our training approach and plans
Doggiedom uses the wellness formula (see below) to assess your dog and develop a plan to help you shape and achieve your training goals for your dog.
At Doggiedom we respect and welcome the opportunity to work with your regular veterinarian and other professional health carers in the interest of your dog's wellbeing.  It is important for us to be aware of the health history of your dog and any diagnoses, test results, treatment options or medications your dog is currently taking as part of the wellness plan approach.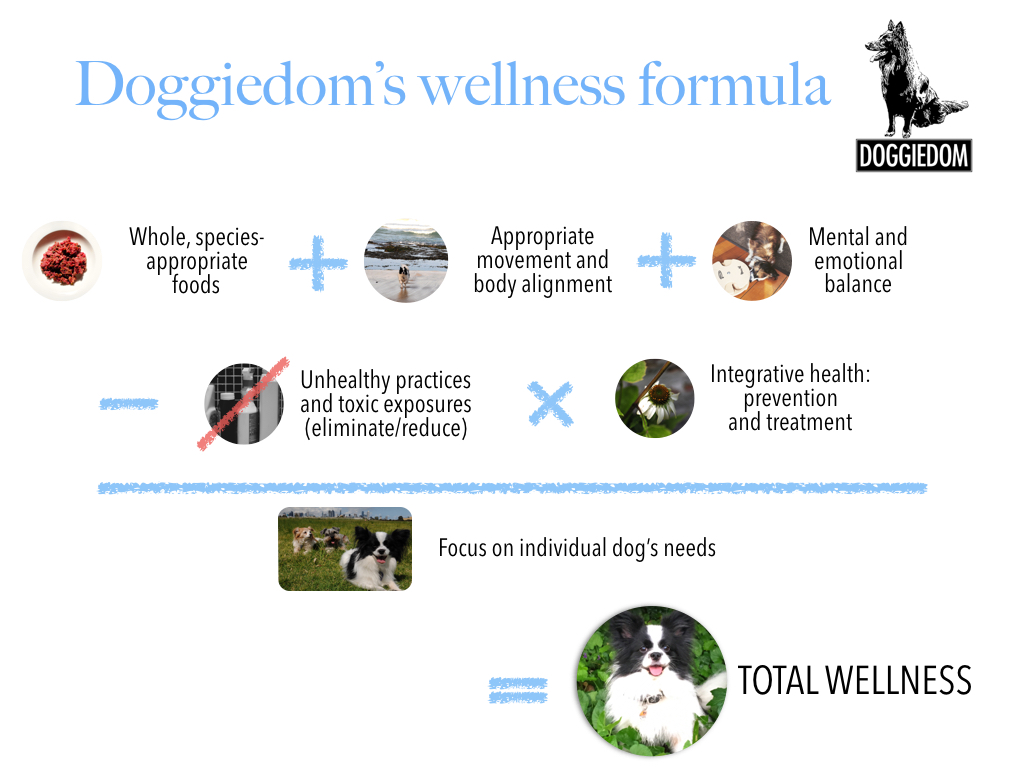 **PLEASE NOTE: Assessment do not involve diagnosing illness or disease in your pet – this can only be done by a qualified veterinarian.  Doggiedom can recommend complementary therapies, including targeted nutritional therapies, as an adjunct to any treatments your dog is receiving through their vet.
How to book
To arrange either an on-line or in-person consultation and Doggiedom Holistic Training and Wellness Plan, contact Doggiedom by completing the form below: