Holistic Dog Training and Wellness Plan

Helping your dog achieve total wellbeing
At Doggiedom we believe that an integrative approach to health and lifestyle offers the best opportunity for true wellness for our dogs and their behaviour.   We value the benefits that both modern science and traditional health practices can offer for total wellbeing.
Kerri from Doggiedom  can create a customised holistic training and wellness plan using the Doggiedom wellness formula (see below) to help you promote a long and healthy life for your dog. 

Doggiedom Holistic Training and Wellness Plan
The Doggiedom Holistic Training and Wellness Plan is designed specifically for your dog based on an assessment of his/her behaviour and wellbeing factors that may be influencing those behaviours, including physical, mental and emotional health, lifestyle factors and importantly, diet.
The plan is based on the key elements of the wellness formula (see below); it includes supporting guides, recipes and other resources to help you achieve your dog's behaviour and wellness goals.
At Doggiedom we respect and welcome the opportunity to work with your regular veterinarian and other professional health carers in the interest of your dog's wellbeing.  It is important for us to be aware of the health history of your dog and any diagnoses, test results, treatment options or medications your dog is currently taking as part of the wellness plan approach.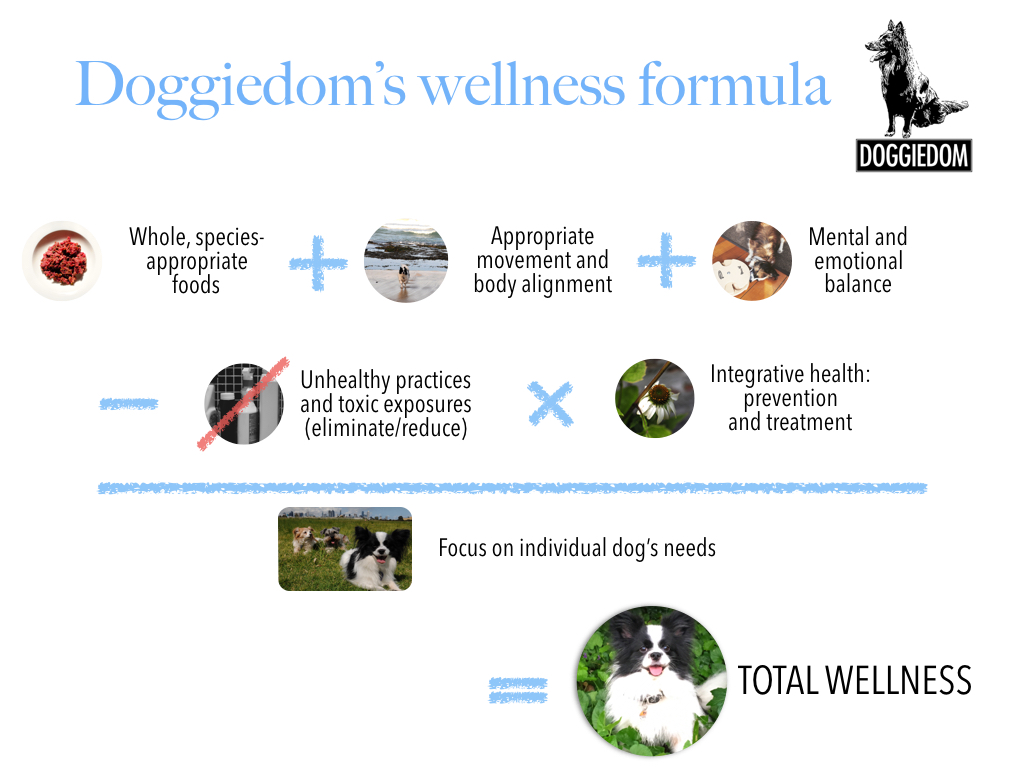 Options
On-line basic wellness plan
In the basic wellness plan, Kerri will assess your dog's current wellbeing and situation based on the results of a comprehensive survey diagnostic that you complete about your dog.**
The basic plan is conducted on-line; it is important that you provide as much detailed information and current good quality pictures or video of your dog.
Suitable for those doggie guardians: 
with new puppies or dogs to the household who want to get their pooch off to a great start in life
who have dogs in general good health who want to make some changes to prevent issues down the track
who have dogs with some minor health or behavioural issues who want to make some changes to improve their dog's wellbeing and prevent further issues developing**
unable or would prefer not to book a personal consultation, or would like a lower cost option.
Contact us for pricing.
Personal consultation (Victoria/Australia only)
This includes a one hour home visit (Melbourne metro and surrounds only unless otherwise negotiated) where Kerri assesses the dog's lifestyle, environment and behaviours.
Suitable for those: 
who want a more comprehensive assessment of their dog's behaviour and wellness risks;
would prefer a higher level of personalised consultation; and/or
would like a number of others in the household to participate in the consultation and plan implementation
Contact Doggiedom for pricing.
**PLEASE NOTE: The wellness assessment does not involve diagnosing illness or disease in your pet – this can only be done by a qualified veterinarian.  Doggiedom can recommend complementary therapies, including targeted nutritional therapies, as an adjunct to any treatments your dog is receiving through their vet.
How to book
To arrange either an on-line or in-person consultation and Doggiedom Holistic Training and Wellness Plan, contact Doggiedom by completing the form below: