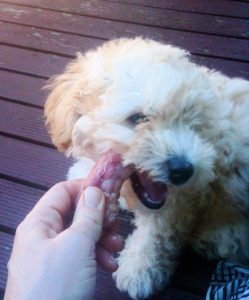 Your dog's nutrition needs change throughout their life-stages, so it's important to adapt ingredients and quantities of food to suit his or her needs. Getting puppies off to the best start is important for setting a good foundation of health.  The average puppy over 12 months will need:
Twice as much energy from their food as adult dogs to help them grow

Slight to moderately more protein and fats than adults

They also need more: Calcium, Phosphorus, Sodium, Chloride, Copper, Iron, Manganese and Zinc.
The exception to this is large breed puppies, which should be fed more steadily over 18 months to 2 years to ensure they 'grow' into their bones.
All puppies should be lean (visible waist, able to feel ribs through skin) rather than 'roly-poly', which suggests they are being fed too much and risk either growing too fast (creating bone or joint problems) or be more susceptible to weight issues later in life.
Here is a recipe for a raw fed meal for a puppy.  Feed approximately 2-3% of expected adult body weight per day (eg: spaniel puppy expected to be 23kg as adult would have 460gm – 690gms per day), modifying quantities accordingly as you monitor your puppy's body condition.  Rotate the meat and offal sources (being mindful of muscle based offal or secreting organs) over the weeks to broaden the range of nutrients your puppy receives.  Always ensure they have some sort of bone based calcium (either raw meaty bones whole, minced or bone supplement) and that the calcium to phosphorus ratio is balanced.
Divide the meals into:
3-4 servings for puppies up to 3 months

2-3 meals between 3-6 months; and

1-2 times a day from 6-12 months

(Large breed puppies should continue to be fed divided servings up to 18 months – 2 years of age).
In addition to the bone and meat meal below, other foods to serve during the day (or to add to the recipe below) include 1 sardine  and 1 egg in tablespoon plain full fat yoghurt or kefir.
Related blogs:
Making your own dog food basic principles
Basic raw red meat meal for adult dogs
How much bone do I need in my dog's meal?
How to serve veggies and fruit to your dog
Ingredients
Makes approximately 575gms
220gm lean meat (beef, kangaroo, chicken etc)
120 gm chicken necks (no skin)
45 gms beef heart
45 gms beef liver
45 gms pumpkin
45 gms quinoa or sprouted oat seed*
20 gms leafy green vegetable
20 gms broccoli
1 tablespoon parsley
10 gms mussels + 10 gm oysters (freeze dried or canned is fine – ensure no additives)
1/2 teaspoon coconut oil (optional)
1/8 teaspoon of salt (celtic sea salt or Himalayan salt preferred)
Alternate each meal with with 1/8 teaspoon of spirulina or a high quality algae supplement or 1 whole fresh or tinned sardines.
 Twice a week add 1/8 teaspoon of good quality kelp.
* Takes about 2 days to sprout your own or purchase some other sprouted seeds or beans. The oat groats can be replaced with rolled oats soaked overnight in cold water. Remove or serve this ingredient less frequently if your pup is gaining weight too fast.
Method
Set aside chicken necks.
Chop meats and offal into fine chunks or pulse lightly in a food processor together to combine.
Steam the pumpkin and mash into the food.  Lightly steam the broccoli. Puree the vegetables and parsley in a food processor or mortar and pestle until all broken down.  Add to the meats with the sprouted quinoa or oats.
Add the remaining ingredients and mix well (by hand with a rubber gloves works best!).
Monitor your pup eating the chicken necks first then serve remaining meal.