Following on from my story on Waging a Low Tox War on Fleas, here a few different home made lox tox recipes for you to try.  These concoctions won't kill the fleas (unless they happen to land in a batch and drown!). Remember, if it is strong enough to kill an insect, it will have toxic chemicals that are not likely to be good for your dog's health.  These sprays should be used in conjunction with the flea control protocol outlined in my blog: eliminate fleas outside (nematodes), inside (vacuum, washing bedding), and on your dog (diet, bathing, grooming, low tox sprays or powders).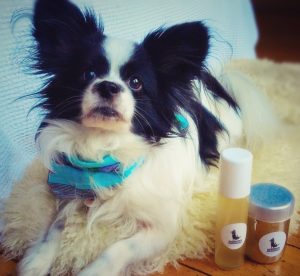 Please note that most of these recipes are for dogs only (except for the first one which is cat friendly), particularly those using essential oils, which can be very toxic to cats!
Use the best ingredients you can afford (organic if possible) and make sure you use high therapeutic grade essential oils.
Try not to 'overload' on these recipes either – trying them all at once will not make anything more potent.  You may find just using one or two of them is enough.
And finally, while these are natural and generally gentle ingredients, some dogs can still be sensitive to them.  Test a small patch on your dog's skin first and if there is any kind of reaction, stop use immediately.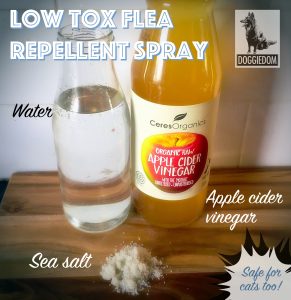 ---
Cider vinegar pest spray for dogs (this one is okay for cats too):
Makes 500mls
Ingredients:
2 parts water (200ml)
3 parts (300ml) unfiltered cider vinegar
1/2 teaspoon Celtic sea salt
Place the ingredients in a spray bottle (preferably glass or ceramic) and spray your dog's coat all over. (Avoid eyes or any open wounds). Spray once a week.
---
Essential oil pest repellent spray for dogs (not for cats)
250ml filtered water
70ml unfiltered apple cider vinegar
1 teaspoon of vegetable glycerin
1 tablespoon almond oil
10 drops of neem (Azadirachta indica) essential oil
10 drops of rose geranium (Pelargonium capitatum x radens) essential oil
10 drops of cedarwood (Cedrus atlantica) essential oil
10 drops of citronella (Cymbopogon nardis) essential oil
Place the ingredients in a spray bottle (preferably glass or ceramic) and spray your dog's coat all over. (Avoid eyes or any open wounds).  You can also soak three cotton makeup wipes with the mixture, fold into a bandana and place around your dog's neck when heading outdoors.
---
Cedar chip potpourri for dog bedding
Buy or make a cotton based pouch with a zip or draw string. Fill with the following:
Handful of cedar wood chips
3 tablespoons of dried lavender
2 tablespoons of dried rosemary
Place under your dog's bedding and in areas around you dog's living space.  Note of caution: if your dog is prone to chewing anything in sight, this one may not be the best choice.  Or leave it in the bedding when your dog is not using it and remove when they are there. Refresh the contents once the aromas start to fade.
---

Home made dog flea powder
1 cup Diatomaceous Earth*
1 cup dried mint
1/2 cup dried neem powder*
10 drops cedarwood (Cedrus atlantica) essential oil
* Available in many natural health stores and online.
Mix all ingredients together and place into a bottle with a mesh lid to allow sprinkling of the powder. Apply to dog's dry coat, all over the body, being careful to keep the powder away from eyes, nose and mouth (Yours and your dog's!). Best applied outdoors in a ventilated area to prevent breathing in fine particles.  Apply oncee a month or after bathing.
---
Homemade dog flea shampoo
½ cup filtered water
1/3 cup unscented liquid castille soap
2 teaspoons of almond oil
5 drops of lemongrass essential oil (Cymbopogon flexuosus)
5 drops of cedarwood(Cedrus atlantica) essential oil
5 drops of lavender (Lavandula angustifolia) essential oil
5 drops of neem (Azadirachta indica) essential oil
Glass or ceramic pump container
Place all ingredients in pump container and shake to combine.  Apply to your dog's coat and massage in thoroughly, leaving on the coat for at least five minutes. Use as part of regular bathing routine – more frequently if there is a flea outbreak.  Rinse thoroughly and dry coat.