Sprouting seeds to add to your dog's regular meals.
Related blogs:
http://doggiedom.com.au/sprouting-good-health-for-your-dog/
Making your own dog food basic principles
How to serve veggies and fruit to your dog
Ingredients
(Makes 1-3 serves of sprouted seeds)  Store in fridge once sprouted and use within 3 days.
Seeds of your choice:
Make sure you use seeds that are for sprouting or have not been refined (eg: pearled barley).  You can spout different seeds together, but ensure you soak each seed for its required time.  (Refer to the table below for recommended soaking and sprouting times for some typical sprouting seeds)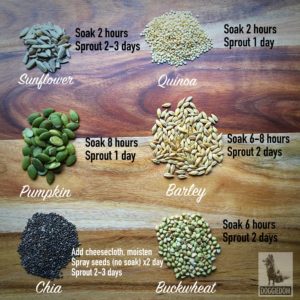 Water:
Clean, filtered water
Utensils:
Sprouting jar or container or
Regular jar with holes punched into lid
Method
 Amounts to serve:
Serve about an 1/8 cup of sprouts per 5kg of body weight.  Crush them up in a pestle and mortar and add with your vegetable mix for an additional nutrient hit.