This doggie treat recipe creates some soft and pliable mixture perfect for training sessions.  You can substitute banana flour for the coconut flour, but avoid any grain-based and gluten type flours.
Add in some of the superfood boosts to the occasional batch for an extra nutritional punch.
Related blogs:
Choosing the best (and healthiest) dog training treats
Making your own dog food basic principles
Ingredients
(Makes approximately  400 grams of treats)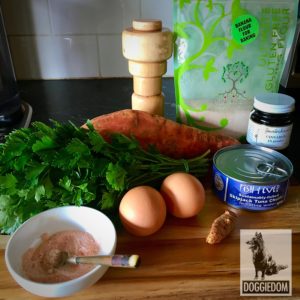 1 small can/bottle of tuna or salmon (preferably sustainably fished)
350 grams of sweet potato
2 eggs (beaten)
1/3 cup coconut or banana flour
1 tablespoon finely chopped parsley
1/8 teaspoon of Himalayan salt
(Optional) For an extra superfood boost:
1 tablespoon of turmeric root grated finely (or 1 teaspoon of powered turmeric) and 1/8 teaspoon of black pepper
0r
1 teaspoon of A-grade cinnamon powder* – great for dogs with yeast issues (not for hypoglycemic dogs though)
Method
Preheat oven to 180C and line a rimmed baking tray with baking paper.
Cut the sweet potato into cubes and steam until very tender. Allow to cool.
Mash the tin/jar of tuna, sweet potato and combine until smooth.
Add the eggs and non-grain flour and stir until fully combined (at this stage you may want to crush the egg shell and put into the mix for an extra calcium boost!).
(Optional) Add in any 'super' supplements at this stage and blend thoroughly into the mix.
Add the mixture to the baking paper-lined tray to a depth of about 0.5cm.
Bake in the oven for 40-50 minutes until cooked through and slightly golden. The texture will be slightly spongy.
Allow to cool completely and cut into small cubes.
Store in the fridge for no more than 3 days or freeze until ready to use.
For a crunchier treat, place in a dehydrator or very low oven until dry and crisp. These can be stored in an air tight container.
*Only add A-grade cinnamon for therapeutic benefits as standard cinnamon that you usually buy in supermarkets is inferior in nutritional benefits.